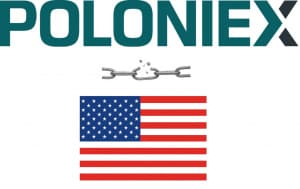 Big changes came. US residents will no longer be able to use Poloniex. This is quote from their customer service:
Hello Poloniex Customer,
Today we are very excited to announce that Poloniex will be spinning out from Circle into a new company called Polo Digital Assets, Ltd. This new company will have the full backing of a major Asian investment group, who plans to spend more than $100M to develop and introduce new features, assets, and services for their global customer base.
We are incredibly excited to continue working with you and the rest of the global Poloniex community. We have a wide range of exciting new features and capabilities planned for the exchange starting with 0% spot trading fees until the end of the year, starting on October 21, 2019!
As part of the spinout, Circle will cease all trading operations for US customers on November 1, 2019. As a non-US customer, there is no action you need to take at this time.
The full announcement can be found here and our Customer Support team is available to answer any questions you may have. Simply reply to this message and we will get back to you quickly.
Team Poloniex