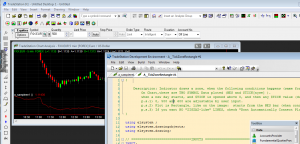 Creating Folder with EasyLanguage/DLL
In EasyLanguage (TradeStation v9+), like many other things,  there is not ready-made function to create a folder (directory) recursively.
For example, you want to create:  c:\parent\child directory,  then in general you could use:
value1 = ELC.DirectoryCreate("c:\parent\child");
but if parent directory doesn't exist, then it throws error.
So, we need to create a function that recursively checks/creates directories. Here is the function:
value1= tt_CreateFolderIfNotExists("C:\fold1\fold2\fold3");
Download the .ELD function here.
Basically, is uses loop to check the parent folder of current path, if it doesn't exist, then creates that folder (but at first, it checks, if it's parent exists).
p.s. Note, you should have installed the ADE/ELC_collection at first.