Like us, many other developers also create and develop scripts (indicators, strategies, addons, etc… ) for NinjaTrader 8 platform.
However, if you have to develop much in NT or want to test (download & import) different indicators, you will see that all indicators are placed together, causing to increase a load of NinjaTrader.
The solution is to create several different Custom folders in Documents/NinjaTrader 8/bin/ before you start nt, and thus you can have different Custom folders for each your instance. However, that is very annoying when doing manually.
For that reason, we have created a very basic app to create NinjaTrader Isolated (Multi) Instances (which creates different Custom folders for each instance). So, now you can create isolated instances and import different indicators & DLLs in different instances. App has a simple GUI: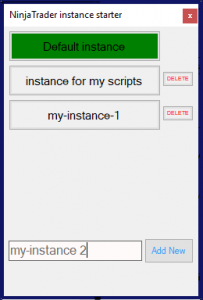 Download the release version and Visual-Studio project (Open-source, MIT). You can even create & commit your pull requests in fork.