Are you looking for a Thinkscript coder?  You have visited the correct place. My Team (OceaneSa, headed by T.Todua) do programming and coding of Indicators and Strategies for ThinkScript, which contains different types of scripts (for Charts,  Custom Column – Scans, Alerts and etc..). So, if you need a Thinkorswim programmer, then you contact us.  Please, dont forget to send all details related to your task, better to be written in a Text document. Terms are negotiable. Each task will be individually reviewed, and you will be given the final quote.
[
| | |
| --- | --- |
| Name: | Tazo Todua |
| Email: | tazotodua@gmail.com |
| Skype: | same as email |
| Profile: | http://ttodua.uk.to |
| Location: | Georgia (Eastern Europe) |
| Phone: | (+995) 598 745 222 |
About ThinkOrSwim

Thinkorswim® is an innovative trading platform, which offers different opportunities to traders.
=== A short brief ===
Thinkorswim – a modern and adaptive platform. Brings you the new trading experience, offered by TDAmeritrade) . It helps you to be on the top of the market, with many essential tools and resources, as you are will be able to trade from your desktop, with an user-friendly interface and easy navigation panel. Modern look & feel, adjusted for customers. It can send notifications to your mobile phone, it supports many chat rooms, where you can have a chat with other traders and support center. You can read their magazine, which gives traders some tips and advises. It is easy to open account with TD Ameritrade, which also offers you some cashbacks while opening the account. With TOS, traders keep connected to trading world.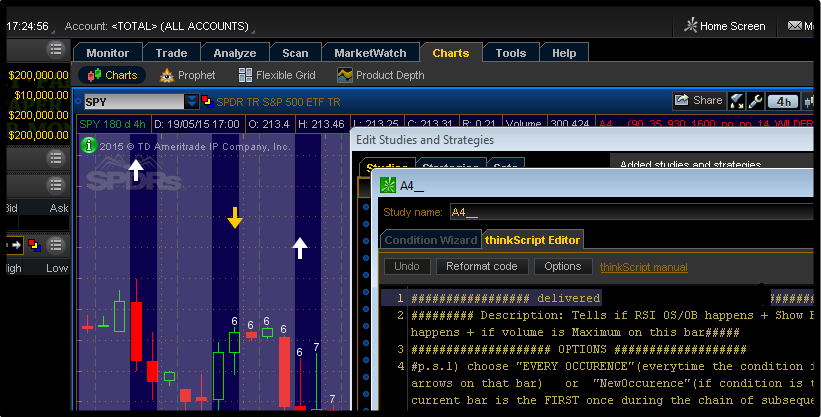 About ThinkScript programming
ThinkScript is a coding language of TOS, so ThinkScript Editor Window gives us ability to create, test and modify the scripts (indicators, strategies, custom-columns, alerts, scans …).  There is also an integrated help-sidebar, which gives you definition of functions and reversed words.  TOS offers you a wide range of built-in indicators and strategies, so you can test them easily. In case you need to customize or build a new script, you can also order a custom-coding service, like us.